Classmates in Memory
Leslie Lord (Ivy)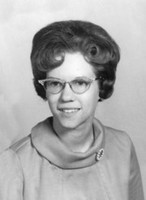 Mrs. Leslie Marcelle Lord Ivey, age 68, of Dallas passed away on Thursday, April 30, 2015 at her daughter's residence in Trinidad. She was born on October 20, 1946 in Corsicana to Tracy Eagle Lord and Ethel Lucille Szenasy Lord.
Mrs. Ivey spent most of her life working as a Security Guard .in Dallas. She was married to her loving husband, Jesse Alvin Ivey and shared many loving years with him. She was a loving and caring mother, grandmother and great grandmother.
She was preceded in death by her parents.
Mrs. Ivey is survived by her husband; her daughter; Dawn Foster of Trinidad and son Stacey Ivey and wife, Dorenda of Gun Barrel City. She also survived by her grandchildren; Sarah Bell, Robyn Hunsinger, Emily Ivey, Courtnie Ivey, Samantha Ivey, Derian Ivey, Casey Ivey, Brendon Ivey, Hayden Ivey and Desire' Ivey, and one great-grandchild, Cadee Bell.